The Grafton Inn in Vermont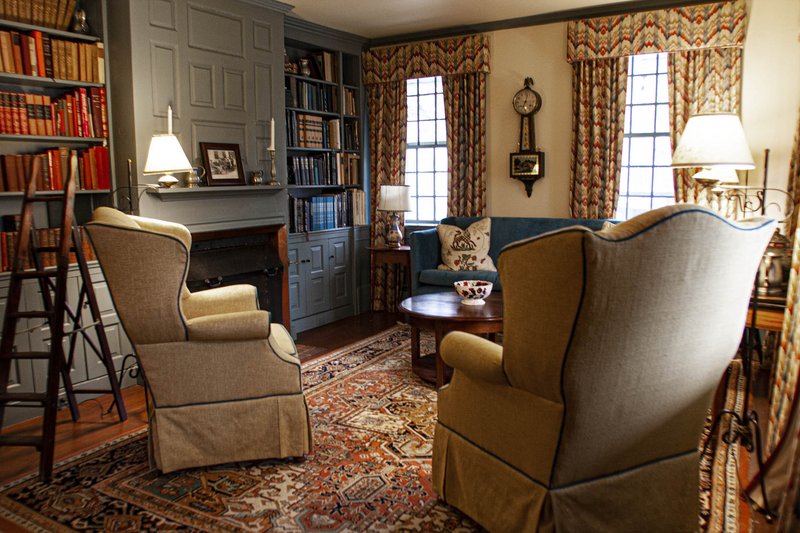 (Photo by Stillman Rogers)
The focal point of Grafton is the three-story
Grafton Inn
, which has welcomed guests since 1801, when it opened as one of Vermont's original stagecoach inns. Forty years later it was the center of town activity – the court even convened here –and it has hosted notable guests including Rudyard Kipling, Daniel Webster, Theodore Roosevelt and Woodrow Wilson. Its long two-story porch lined with rocking chairs is still an inviting presence in Grafton.
Our third-floor corner room (there's an elevator) was bright and decorated in a muted period wallpaper, a pale Oriental carpet and framed 19th-century English caricature prints and sporting scenes. The room matched the inn's 19th-century ambiance inn perfectly, with no television or clock radio. Wireless internet and in-room phones are concessions to the 21st century, as was the modernized bathroom, with its tub-sized tiled shower.
People come here to disconnect from everyday life, for tranquility and relaxation -- and they find it. Without the sounds of televisions drifting in from nearby rooms, the only nighttime sounds were the beat of raindrops from a spring shower.
The large walk-in closet had two luggage racks (why do most hotels think one is enough?) and hanging space for an entire wardrobe. It was big enough for our luggage to stay open there, easy to reach and without its cluttering the room.
The room was large enough to leave plenty of space between the four-poster king-sized bed and the two comfortable wing chairs at either side of a round table. The double lamp reached both chairs, and bedside lamps made reading in bed comfortable.
Waiting for us on arrival was a box of crackers and generous block of cheddar from Grafton Village Cheese Company.
Public spaces are just as welcoming. Between the reception and the front door, which leads onto the long porch that wraps around two sides of the inn, is a fireplace faced by a Chippendale sofa and wing chairs. Just off the lobby, a long parlor extends the width of the Inn, divided into two cozy seating areas with sofas and wing chairs. On the walls at either side of the fireplace, floor-to-ceiling shelves were filled with classics, history and art books. A shelf beside the other fireplace has games to borrow.
Coffee and premium-brand teas are always available in the lobby, and in the morning, so are fresh-baked muffins for early risers. In the late afternoon, chocolate chip cookies arrived in time for us to take cups of tea to the rocking chairs on the front porch. We did just that on the day we arrived, munching warm cookies and watching a spring rain brighten the lawns of the white houses opposite the inn.
Fortunately, the big cookies in the late afternoon didn't spoil our appetites. The inn's dining room, the 1801 Tavern, is a farm-to-table restaurant, where Chef Cal Hingston creates a seasonal menu from local and sustainable ingredients. Culinary inspiration from around the world mix easily with traditional comfort foods like fish + chips and juicy burgers of Vermont beef.
My rack of lamb was cooked exactly as ordered, served with polenta topped in creamed leeks, caramelized onions and crumbled goat cheese. The flavors complimented each other, and the lamb was some of the most flavorful I have eaten (and I order lamb often). The giant sea scallops were silky inside the smoked paprika-seared exterior. We were glad we shared the sweet-hot chicken wings, as the appetizer serving was large enough for an entrée.
We chose to order another appetizer, the cheese plate, to share as dessert. It included generous portions of Grafton cheddar, a deeper flavored cloth-bound Grafton cheddar and a creamy blue. The Grafton cheeses are made at the creamery just down the street, where visitors can watch the process.
Breakfast at the inn offered several choices, including a daily special – smoked salmon Benedict one morning – but I ordered the granola and berries with yogurt. It came in a luscious mound served in a wide soup bowl. Never have I been served such a bounteous plate of berries – there was at least a pint of mixed blueberries, blackberries, raspberries and strawberries. The granola was filled with mixed nuts and not overly sweetened (a complaint I have with most granolas).
Grafton is located in southern Vermont, close to I-91, surrounded by interesting places to visit. Along with Grafton's extensive Outdoor Center, which inn guests can use for cross-country skiing, hiking, swimming and other seasonal activities, there are several state parks within easy reach, offering more hiking trails.
Lively Brattleboro is filled with locally owned shops, and Manchester offers shopping and Hildene, the stately home of Abraham Lincoln's son. On the way to any of these you'll pass through iconic Vermont villages – but none preserves its rural Vermont character better than Grafton.
You Should Also Read:
Church Landing, Meredith, NH
Land's End Inn, Cape Cod


Related Articles
Editor's Picks Articles
Top Ten Articles
Previous Features
Site Map





Content copyright © 2022 by Barbara Radcliffe Rogers. All rights reserved.
This content was written by Barbara Radcliffe Rogers. If you wish to use this content in any manner, you need written permission. Contact Barbara Radcliffe Rogers for details.